Time Remaining Until Next Reunion in Branson, MO.
00
days
00
hours
00
minutes
00
seconds
Hey Cav med guy...where ya been? If you haven't been visiting this site often you may have missed some of the articles. Not to worry - gotcha covered. Visit our
Old Front Page News and you'll be able to catch up with past articles.
---
reunion planning looks great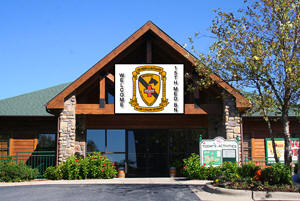 Ron Ingram is putting the finishing touches on, what looks like, a super reunion. The reunion agenda, as well as the business meeting agenda are available for your review HERE and in a printable form at the bottom of the reunion page.
There will be plenty of time to visit in the hospitality room and tell war stories (really just swapping lies) or head out on your own to the many attractions and shows offered in Branson.
Baby Huey will have the t-shirts, 15th Med Bn stickers, and challenge coins available for sale whenever he's sober. He'll be able to consummate your sale with cash, credit card, or debit card.
If you are one of those flying into Springfield, MO, send your day of arrival and ETA to medevac2@15thMedBnAssociation.org and he'll see if he can match your arrival with another reunion member so you might be able to share a ride and lower your transportation costs.
---
President's Message

Larry Hatch, our Association's president, has added his latest message for all to read. This message was sent by e-mail to all members. So, if you haven't seen this message as an attachment to an e-mail, please visit the Member Search database and make sure your e-mail address is entered correctly. If it's not, please fill out an Update/Correction form so the correct data will be available for friends to get back in touch with you.
[ Read more and his story ]
---
Back issues of 15th med bn saber articles
Back issues of the 15th Med Bn articles written by Mike Bodnar for the 1st Cav's Saber magazine are being published on this site as fast as time permits. Current issues of Mike's "labor of love" are published on this site from 1999 through 2017. Newer issues will be added soon until all the issues are available under the Historical Documents tab on this site.

If you're a sinner like me, and dropped out of participation in the 15th Medical Battalion Association's, and now have the desire to get caught up, the Saber articles written by Mike contain gobs of interesting anicdotes. It took me many hours to make the Saber articles available, but now I realize I've just begun my journey. I'm hooked now and am in the process of going back and reading every issue. I invite you to also take on the task of reading Mike's works.
---
the word is spreading
The word must be spreading about our association because last month we had the higher number of visitors (438 folks) in the history of our site. That means there's a very good chance attendance at this year's reunion will be well attended. If you're still on the fence about attending the reunion, take a chance and register to attend. There's a good chance you'll meet someone that has lots in common with you and is more than willing to exchange "true" war stories.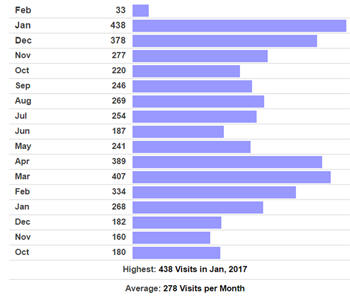 ---
The Vietnamese View of the Ia Drang Battle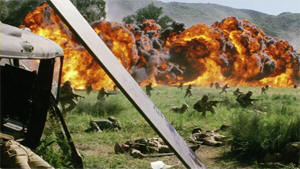 OK you old farts - you know who I'm talking about. You Med guys that were up north where the "real" war was fought. Here's a good discussion of the Ia Drang battle.
For the past 35 years the US Army and the North Vietnamese have claimed victory in the October to November 1965 Ia Drang Valley Battle. While the United States side of the battle has been extensively documented, the Vietnamese version has remained obscure. Although heavily colored by communist propaganda, recently published People's Army of Vietnam (PAVN) accounts provide answers to many questions and acknowledge a number of North Vietnamese Army (NVA) mistakes and command failures. When added to information from US sources, these accounts reveal how greatly the fog of war, over optimism and blind fate influenced the battle.
Click HERE to read about the battle from the other side's view.
---
new medevac t-shirts in store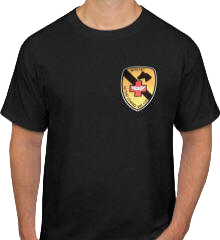 Brother Larry Hatch just sent me a new collection of Medevac t-shirts to add to the online store. These high quality 100% cotton black t-shirts have a Cav patch over the left pocket area that reads MEDEVAC across the top with the inscription SO THAT OTHERS MAY LIVE inside the patch on the bottom. The back of the t-shirt has a Cav patch with a red cross and aviation wings in the center. Under the patch in large letters it reads, MEDEVAC, SO THAT OTHERS MAY LIVE. FREE SHIPPING in CONUS.
Get ready for the reunion in Branson by stopping by the online store and gett'n ya some of these new t-shirts before they're all gone!
---
Webmeister Needs Your Help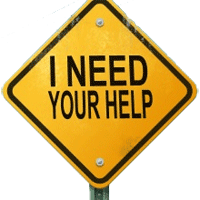 The database making up the Unit Member Search has been scrubbed to make it as accurate as we can at this time. All e-mail addresses were checked for currency and "dead" e-mail addresses deleted. This leaves many menbers without an operating e-mail address associated with their data. I need your help in filling in the blanks. Please search for friends you served with and if you notice an individual's name doesn't have an e-mail address, but you known what the e-mail address is, then please let me know at medevac2@15thMedBnAssociation.org . Thanks.
---
Reunion Registration Open Online
Registration for the 2017 reunion in Branson, MO is now open online. You may register and pay with a credit card, debit card, PayPal account, or by check. Sorry, we're not taking MPC this year!!
Ron Ingram has found us rooms at a great hotel at an outstanding rate, set up a breakfast buffet each morning, a number of activities to keep us busy during the day, and a great banquet the evening of 29 Apr 17. And of course there will be the hospitality suite open most other times. Sorry, but there's a limit of 10 war stories per day.
We're still finalizing all the events held during the reunion, so keep checking back from time to time and visit the Reunion Page for the latest information.
See you in Branson!
---
2017 Reunion Dates & Location Set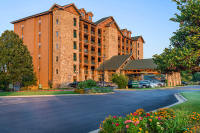 Get your challenge coin shined and your Cav clothing ready 'cause the 19th Annual 15th Medical BN Assn. Reunion will be held 26-30 April 2017, at Westgate Branson Woods Resort, Branson MO.
Information, including registration forms will soon be on this site under the Reunion Info tab. If you are not into computers, or just want additional information, contact Reunion Coordinator, Ron Ingram at papillion251@aol.com or call 402-670-1370.
The reunion will be held at the beautiful Westgate Branson Hills Resort. For room reservations call 1-877-502-7058 and refer to Group Code: 61-327. Reunion room rates are $63/ day plus tax - a real bargain!
To get to Branson by air, fly to Springfield, MO and take a shuttle service to the Resort. Schedules and additional information coming soon!
---
The Louder You Scream T-shirts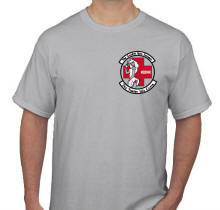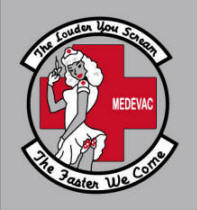 Proudly announce your were Medevac by sporting one of our new t-shirts. Sexy nurse standing in front of a red cross with the word MEDEVAC on it. Around the perimeter the top arch says THE LOUDER YOU SCREAM with the lower arch saying THE FASTER WE COME. Comes in sport gray. Shirts have long tails so they stay in your pants. FREE SHIPPING in CONUS.
---
15th Med Bn Searchable Database
After some very long days and nights of typing in over 753 member names into a database, Terry McCarl and I are finally finished and the works or our labor are available on our Unit Member Search page. Now's where the hard part comes in.
We need everyone to help cleanse the database and report inaccuracies to us. We also need to know of anyone that may have died so we can move their data to another searchable table.
So go over and see if we have your data and check that it's correct. If there are any inaccuracies, fill out the corrections form and send it in.
---
Online Store now OPEN!

We negotiated a good lease and have acquired a huge virtual store with plenty of shelf space and lots of free parking space. We're slowly getting around to stocking the shelves. Looks like inventory will change periodically, so make an entry in your calendar to check back from time-to-time and see if there's something you might want to purchase. So pull in and check out the 15th Med Bn Association's new online store.
---
New Pictures Added To Photo Page
Some new pictures were added to the Photo pages. So what's keeping you from scanning a few pictures and sending then in to us. We'd love to post them and let the whole Association see them. Send them as an attachment to an e-mail to medevac2@15thMedBnAssociation.com . No scanner or not comfortable with attaching items to an e-mail, just sent the pictures to R. (Baby Huey) Huether, 110 Cedar Hills Dr., Fredericksburg, TX 78624. I'll scan them for ya and then return your pictures.
---