Time Remaining Until Next Reunion in Boise, ID.
00
days
00
hours
00
minutes
00
seconds
Hey Cav med guy...where ya been? If you haven't been visiting this site often you may have missed some of the articles. Not to worry - gotcha covered. Visit our
Old Front Page News and you'll be able to catch up with past articles.
---
2020 reunion and hotel registration open
OK all you fools - or more correctly all you April Fools. The 2020 Reunion dates have been established. The reunion will be 1-5 April in Boise, ID. Registration is open and one can make a hotel reservation now. All the info may be found in the reunion information page.. Smitty and Velma have put together a fun-filled week with great tours, wine drinking, and group dinners...ahhhhhhhh and don't forget the hospitality room!
---
funeral placard memento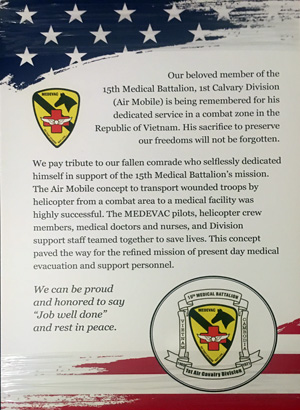 Last year at the Executive Committee meeting it was voted to develop a way of showing the 15th Medical Battalion Association's presence at member funerals instead of sending flowers. Larry (Gray Ghost) Hatch came up with the idea of a funeral placard and got the ball rolling by creating the first version. The project was completed by Jim Ferguson with the second version of the funeral placard.
The funeral placard is printed on 3/16 inch thick stock and is 16 x 24 inches. The placard will be sent to the funeral home with direction to display the placard on an easel or some other suitable stand. The funeral placard may then be taken by the family as a memento of their soldier's service and sacrifice while in the 15th Medical Battalion. Eligibility will be for any member of the 15th Medical Battalion having attended at least one reunion.
Thanks go out to the Ghost and Ferggie for completing this action and creating something meaningful yet within our Association's budget.
---
new unit t-shirts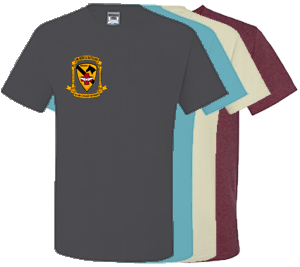 The votes are in and the ballots are checked for hanging chads. All y'all voted for charcoal, scuba blue, sandstone, and vintage heather maroon. These Easy Care 50/50 poly/cotton blend, wrinkle-resistant t-shirts come with your choice of color, crest, and with or without a pocket on left front. Right front crest comes in three options; stenciled crest options are Medevac crest with 15th Medical Battalion border, Medevac crest, or 15th Medical Battalion crest with 15th Medical Battalion border. The back of the t-shirt is blank.
---
lost and missing members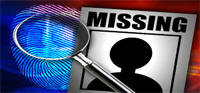 We've got over two hundred names of soldiers that served with the 15th Medical Battalion but we have no way to contact them - no address and no e-mail address. We'd appreciate you taking the time to scan the Lost and Missing Members List and seeing if you know how to contact any of them. If you do find someone you are in contact with, please ask them to visit this site and fill out the Contact Us form or you complete the form for them.
---
Embroidered medevac patch set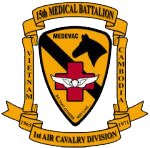 The latest item to be stocked in our online store is an embroidered Medevac patch set (comes in two pieces) measuring 10 x 10 inches. Great to sew on your leather flight jacket, bowling ball bag, or anything else you want folks to know just what you did during the war. Check out these embroidered patch sets in the online store.
---
new historical documents added
Thanks to the tireless efforts of our historian Terry McCarl and for the money put up by Corky Walsh, we've been able to add two new documents to our site; Activities Report 1 Jan 66 - 31 Dec 66 and Annual Historical Report 1 Jan 70 - 31 Dec 70. Both make interesting read so check them out for yourself by going to the Historical Documents section of this site.
---
Webmeister Needs Your Help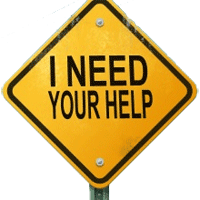 The database making up the Unit Member Search has been scrubbed to make it as accurate as we can at this time. All e-mail addresses were checked for currency and "dead" e-mail addresses deleted. This leaves many members without an operating e-mail address associated with their data. I need your help in filling in the blanks. Please search for friends you served with and if you notice an individual's name doesn't have an e-mail address, but you known what the e-mail address is, then please let me know at medevac2@15thMedBnAssociation.org . Thanks.
---
New Pictures Added To Photo Page
Some new pictures of Company B after the ammo dump explosion were added to the Photo page 6. Many thanks to Jerry Kuklok for taking the time to send them. So what's keeping you from scanning a few pictures and sending then in to us. We'd love to post them and let the whole Association see them. Send them as an attachment to an e-mail to medevac2@15thMedBnAssociation.com . No scanner or not comfortable with attaching items to an e-mail, just sent the pictures to R. (Baby Huey) Huether, 110 Cedar Hills Dr., Fredericksburg, TX 78624. I'll scan them for ya and then return your pictures.
---
15th Medical Battalion Association EIN: 82-1517632
Texas Taxpayer Number: 32064960969
The 15th Medical Battalion Association is registered as a non-profit tax-exempt private foundation with tax-exempt status granted under IRS rules section 501(C)(3) of the Internal Revenue Code.